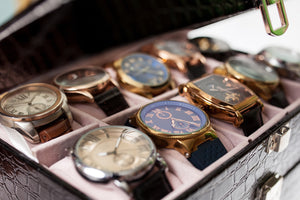 The most beautiful luxury watch boxes
Our Prestige ™ collections
Discover our modern and luxurious watch boxes
Watches are used as cozy cocoons to Your classic wristwatches or watches. Specially designed to contain them, protect them and give them added value, These luxury boxes are very useful storage accessories for Your precious timepieces.
Nos Boîtes à Montres Personnalisables
Why choose a box of Montre?
The watch boxes has several advantages: Adequate protection of the watch, display for a collector's item, but also nice gift.
Adequate protection for the wristwatch
The watch box is a storage of choice to ensure the longevity of a new watch or a used watch. This case protects watches dust, shock and humidity which can damage the dial and needles of this accessory.
These are boxes that keep watches at room temperature and keep them in good condition. This case therefore has all its importance, because it is Guaranteed security of this little gem wrist that avoids scratches, breakages and scratches.
A display display for collectors
More than simple fashion accessories, a collection of watches is a brand of prestige and elegance for men. In order not to have to hide them, it is more judicious to put them in a waterproof and adequate case. It is also A solution not to look for your watch everywhere.
A nice present
It is a male gift par excellence. You can do it A unique piece by customizing it with an engraving And affix a date, a name or a brand and make it an exceptional present. A man watch with a beautiful box in golden or silver engraving, set with diamond, ruby ​​or quartz and decorated with carat is certainly pleased.
How to choose a watch box?
All watches models have suitable writings: Classic watch, luxury watch or sports watch, automatic watch, mechanical watch or connected watch. Some models are mixed watches and other men's watches or women's watches to choose your box-to-watch, you have to take into account its size and material.
The size
The ideal size is in proportion to the number of watches to insert it. For a large collection, a large box is suitable. It also depends on your professional situation: if you often stay in place, only one large box will be enough. On the other hand, if you make frequent trips, a smaller second box can be useful.
The material
The materials of the watch boxes are: leather, wood, aluminum and cardboard. 
The leather is an elegant leather goods: real leather is expensive, but more durable and the imitation leather is less expensive, but is very suitable for protection.
Wood is the most used in the manufacture of watch boxes. It brings a touch of nobility and elegance with beautiful finishes. With a quality of quality wood, you have real works of art in the hands.
Aluminum: Watches storage boxes in aluminum or stainless steel with the look of resistant and modern mini-values. It's a real value jewelry box.
The box: is ideal for a low budget-box. It is an ecological and customizable material as desired. However, its lifespan is limited and they are not suitable for frequent trips.
La boîte-à-montre est un écrin sécuritaire et pratique pour tout type de montre.
Blog Remontoirs à Montre Prestige
View all